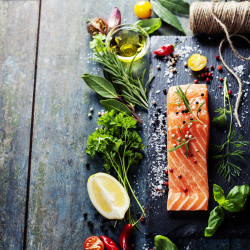 "You can't out-exercise a bad diet any more than you can eat better to make up for lost sleep, or have a great attitude and hope that smoking won't diminish your lung capacity."
Exercise, it's all I need!
So I started a new client many years ago that had some significant weight to lose. He knew he needed exercise to be part of the equation for changing his life. Well actually, exercise was the equation. From his perspective, all he needed to do to lose weight was to exercise, and exercise hard. It worked in college and should work again…right?
The Epiphany. Two years later, after I had put him through the ringer three days a week (hey, he asked me for it), he finally had an epiphany when he had not lost any weight, "you know, maybe we should talk about my diet." In my defense, I had mentioned we should talk about his diet when we started, but for one reason or another, changing his diet was not on the table. Funny thing happened when he started working as hard on his diet as he had in the gym—his weight started to come down nicely.
That short story alone more or less makes the point of this article, but there are two deeper, parallel lessons I've picked up over the years that I hope you find helpful:
TRUTH #1: Annoying or Liberating? There's a strange tension with the change process—if you focus too much on one thing, you're likely not going to get the results you want. Yet, if you focus on too many things at once, you're also not likely to get the results you want.
That fact can be an annoying or liberating tension depending on how you view it—we'll cover that in another post.
TRUTH #2: A holistic approach to health is really the only way to achieve lasting vitality. Health is not about one thing. It's about the seven interrelated components mentioned above. You can't out-exercise a bad diet any more than you can eat better to make up for lost sleep, or have a great attitude and hope that smoking won't diminish your lung capacity. Health just doesn't work that way. Vitality requires a well-rounded approach. As I mentioned in the last post health is built by a lot of little habits, compounded over time.
So what's the sweet spot between too much and too little? Well, here's where reaching your health goals becomes more of an art than a science. Finding the sweet spot of 1) perspective on what to change and 2) bandwidth to take on change, is an ever-present tension, but here are some suggestions.
1. Action Step #1: Create some "white space" in your life. This will let you step back, ask good questions, and find your creative, problem-solving side. Do some gardening, try a different coffee shop, go to You-Tube and learn something you've always wanted to know. Whatever it is, just mix it up. It's amazing how often people forget this part.
2. Action Step #2: Trust your gut. Your intuition can be an amazingly good guide for both where you need to start and how much you can handle. Apply the art of listening to and adapting to your emotions, your schedule, feedback from your muscles and joints, your checkbook, and all the random, unplanned happenings life throws at you. All these types of feedback help you know when you're overdoing it and give you insights on what to adjust.
3. Action Step #3: Find a sounding board. Your gut may be great, but it will also tend toward lazy if you let it. A great coach, a great friend, or group of friends who look out for your best interests is one of the sweetest gifts in life, and a great way to stay on track and not let you get away with excuses.
A Game-Changing Approach: One of the things we teach in our Goal Setting and Accountability workshops is to understand the keystone habits in each of the seven areas of the synergy symbol above. You probably know what many of yours are. We go over about 75 keystone habits (if you want a copy of the worksheet we use just email me and ask for it…or better yet, come to our next workshop). We then break those habits down to that person's top three, and then the #1 new habit we think will make the most immediate difference.
By focusing on replacing one bad habit with one good one each month, we can stay aware on the big picture, but avoid causing a "fatal system error" caused by too much or too little. Sometimes the habit we choose to work on sticks and sometimes it needs to be adjusted, or given another month to become routine. But, by the end of the year a person can create about a dozen new habits, all of which can have a significant impact on overall health.
So what are your keystone habits that will set you on the path to a long and healthy life? What lessons have you learned about being well rounded in your approach to health? We'd love to hear more about them. Who knows maybe you'll come up with just the ones we need to add. Until next time…